---
CREAMY QUINOA PRIMAVERA — Quinoa loaded with fresh vegetables in a cream cheese and Parmesan sauce.
---
If you've never tried quinoa, you really should.  I'm always looking for new quinoa recipes, and this Creamy Quinoa Primavera is one of my favorites. 
Technically, quinoa is not a grain, but it does remind me of cous cous. The great thing about quinoa, as opposed to other grains, is that it's very high in protein. It's also gluten-free. 
Yum! Had this for dinner last night, and all devoured it, even my 2-year old. So easy to make and a great way to use up veggies. ~ Rebecca
You can use any kind of vegetables in this dish.  I like onion, broccoli, cauliflower, bell peppers and carrots, and I'll add mushrooms sometimes too (don't tell my kids). 
This recipe is great for using up odds and ends of vegetables you have sitting in the refrigerator.
The great thing about quinoa is that it cooks up so quickly. Which means this simple side dish is ready in almost no time.
If I'm really in a hurry, I just give all the veggies a coarse shop in my food processor, but you could even throw in a mix of frozen veggies to save even more time. 
Found this on Pinterest, and it was awesome! Even the 15 month devoured it, delish. Thanks for the recipe. ~ Gillian
Although I'd typically serve this as a side dish, I'll happily eat it as a meal on it's own. You could even add grilled chicken or shrimp for a super protein packed meal.
This is one of those recipes I find myself making again and again. I hope you love this healthy side dish as much as we do!
---
Be sure to save this Creamy Quinoa Primavera recipe to your favorite Pinterest board for later.
---
---
Here's what you'll need to make Creamy Quinoa Primavera
---
Quinoa
Chicken or vegetable broth
Cream cheese
Produce: fresh basil, garlic, assorted fresh vegetables
Butter
Romano or Parmesan cheese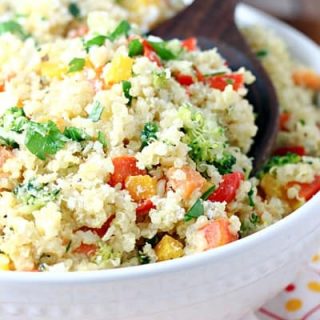 Creamy Quinoa Primavera
Quinoa loaded with fresh vegetables in a cream cheese and Parmesan sauce.
Ingredients
1 1/2 cups uncooked quinoa
3 cups chicken or vegetable broth
4 ounces cream cheese
1 tablespoon chopped fresh basil or 1 teaspoon dried
1 tablespoon butter
2 cloves garlic, finely chopped
5 cups thinly sliced or bite sized pieces assorted uncooked vegetables
3 tablespoons grated Romano or Parmesan cheese
Instructions
Rinse quinoa thoroughly; drain. Bring quinoa and broth to boil in a 2-quart saucepan; reduce heat. Cover and simmer 10-15 minutes or until broth is absorbed.
While quinoa is cooking, melt butter in a large skillet over medium-high heat. Cook garlic in butter for about one minute, stirring frequently, until golden. Stir in vegetables.
Cook about 3-5 minutes, stirring frequently, until vegetables are crisp-tender.
Stir cream cheese and basil into cooked quinoa. Toss vegetables with quinoa mixture and sprinkle with cheese.
I happened upon this recipe today, thought I'd try it. I used carrot, zucchini, mushrooms, broccoli and red pepper with low sodium chicken broth. It was a hit! Will make it again. ~ Kathy
Never miss a Let's Dish Recipe:
If you love this recipe, you might also like:
Who Dished It Up First: Adapted from my friend Christy over at Yummy Deliciousness.